We would be very happy to welcome
you to any or all Full Circle programs.
Whatever free will donation you might
offer will be gratefully received.

Seasonal Celebrations
Winter Solstice: Friday, December 20, 6-8 p.m.
Spring Equinox: Thursday, March 19, 6-8 p.m.
Summer Solstice: Friday, June 19, 6-8 p.m.
Come, join us in celebrating the seasons!
Register two weeks prior to each ritual.
Balm for the Soul of Nation & World
NEW DATE:  MONDAY, APRIL 27, 6 to 8 p.m  See details below.
(previously Nov. 20)

5-Part Book Study:
Big Magic: Creative Living Beyond Fear
Mondays, 10 a.m. to 12 p.m.
Dec. 2  Courage
Jan. 6  Enchantment
Feb. 3  Permission
March 2  Persistence
April 6  Trust, Divinity
Please register by Nov. 18
Book by Elizabeth Gilbert, available at Amazon $10, paperback; $12, hard cover.
Please purchase & read Part 1 prior to Dec. 2.
"The universe buries strange jewels deep within us all, and then stands back to see if we can find them." Big Magic is about creativity and the relationship between humans and the mystery of inspiration. It is a call to open to inspiration and follow, beyond fear, where it leads. It is not a call to creative writing or painting but to any creative project in the broadest sense. Gilbert speaks of creativity as a sacred entity searching for human expression.
The book study offers an opportunity for participants to discuss their creative process and how one circumvents that fearful, often overly-critical voice which can arrest creativity in its tracks. Though the presenter, Lori Weatherly, will offer a structure to the reading and a monthly focus, the "big magic" will emerge through group discussion. The book acts as a springboard to a large investigation of our own unique creative spirits. All you need is openness!
The group will meet on the first Mondays, December through April. Each part can stand on its own so it is not necessary to come to each session though it is preferable for group cohesiveness. Please read the pages indicated prior to each session.
Lori is a regular at Full Circle. She co-presented The Faces of Grace series. Newly retired, Lori is creating the next phase of her life!
Global & Local Solutions: Developing an Economy
that Works for Everyone
Thursday, January 23, 6-8 p.m.
Please register by January 9
In these times of social and economic inequality, there are many hopeful signs that indicate that we can end the human-caused suffering from poverty and unemployment. Additionally, we must reduce net carbon emissions to safe levels to protect all life on our planet.
A grassroots economic model is emerging—and delivering—a more sane, sustainable and equitable system for all people.
Please join Jim Williams for a lively, encouraging look at the bright potential for solving the most serious issues facing our earth community. Jim is a Nutritionist-Herbalist who is inspired by the financial vision of Mohammad Yunis, Nobel Peace Prize winner.
Pathways to Intercultural Living
Wednesday, February 19, 10 a.m. to 12 noon
Please register by February 5
We live in global village, a world of constant migration caused by globalization, political, social, economic and natural catastrophes, famine, and war. Too often the response to migration is backlash rather than solidarity and compassion. Perhaps you'd like to join FC Staff in an exploration of ways to weave a living tapestry of diversity and friendship? Informational content, Power Point presentations and lively discussion will be the route we take.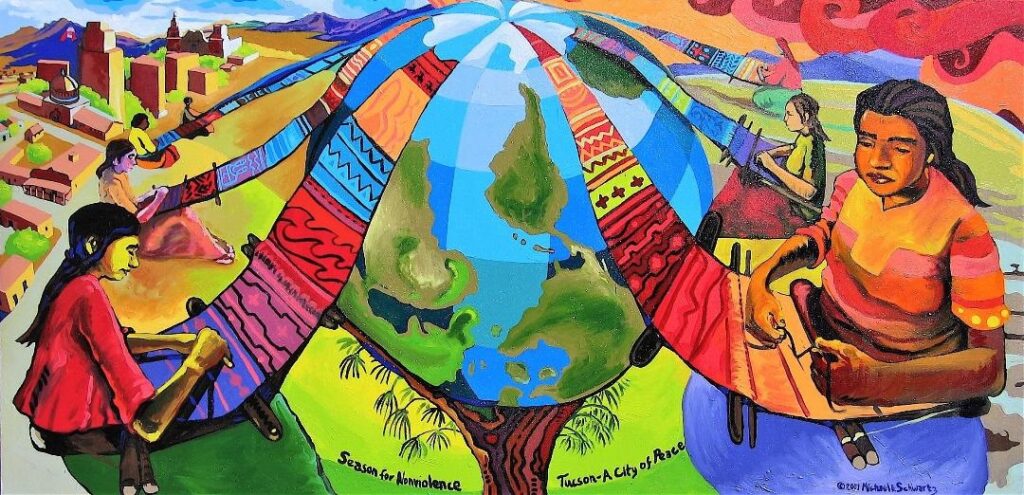 How to Be a Steward of Creation
Saturday, April 18, 10 a.m. to 12 noon
Please register by April 4
A look into our faith and contemporary sources will bring information to our inspiration to reconnect on a personal level with the natural world as we care for Earth community.
Dan Rhein, life-long learner and observer of nature through numerous career experiences as lawn sprayer, landscaper, gardener, county drain inspector and naturalist will facilitate this event.
Balm for the Soul of Nation & World
NEW DATE:  MONDAY, APRIL 27, 6 to 8 p.m
(previously Nov. 20)
Please register by April 13

What Janet McKenzie strives for in her art "is that sacred and inherent place within that connects us beyond race and gender where no judgement exists." Join FC Staff, commentators Elizabeth Johnson, Joyce Rupp, Wendy Beckett and others in the profound experience of entering into McKenzie's art which stirs responses both insightful and controversial.
To Walk in Wonder
Thursday, May 7, 6-8 p.m.
Please register by April 23
Author Diane Ackerman says that John O'Donohue's book of the above title, is "so infused with wonder that every question becomes a lantern." In her forward to the book Krista Tippet wrote that O'Donohue made "sacramental acts of his thinking and conversing." Others speak of the man as having been lyrical, profound, impassioned and compassionate, "utterly selfless." Are you enticed to join FC Staff in exploring a book that Krista Tippet says rarely leaves her side? If so, please join us in taking a plunge into beauty and wisdom.
Sophia: The Hidden Christ of Thomas Merton
Thursday, May 21, 6-8 p.m. & Thursday, June 4, 6-8 p.m.
Please register by May 7
Merton says Sophia is "The Mother of all visible things, an invisible fecundity, a dimmed light, a meek namelessness, a hidden wholeness." In The Hidden Christ… Christopher Pramuck wrote, "There should be no one on earth in whom we are not prepared to see, in mystery, the presence of Christ...if we are going to live as bearers of presence, peace and hope in the 21st c."
Once FC staff discovered Pramuck's masterpiece we knew we could not keep its depth and beauty to ourselves. Please join us in diving into it in two sessions.
Christopher Pramuck is Regis Chair of Ignatian Thought and Imagination and Associate Professor of Theology.
Waiting to be rescheduled:
Finding Joy in Mindful Eating
Everyday-eating is more than physical necessity or part of cultural identity. Practicing mindfulness, in the act of preparing, sharing and eating food, creates in us a deeper connection to Earth community and justice related to food. Whether we eat alone or with others, eating is a communal act. Restoring the sacredness of mealtimes can create a posture of gratitude for the spiritual gifts of creation as well as joy in the experience of "juicy rich foods and pure choice wine," Is. 25:6. Join us for an evening of conversation, readings and reflections on food topics to make your daily eating ritual a more nourishing experience for mind, body and spirit. Register early. Seating limited to 8. Dorothy Ritter is a 64 year old member of Earth community, daughter of a Loving Cosmic Creator, who is still struggling to find her way on the ancient quest of discovering meaning and purpose in her life.